AMERICAN MUSCLE & FITNESS
PILATES TRAINER CERTIFICATION PROGRAM

by Gregory Ladd

1988 AAU MR. INTERNATIONAL 1987 AAU MR. NORTH AMERICA



Copyright 2001-2009
Legal Disclaimer
The Author accepts no liability for actions influenced or taken by anyone that reads this manual or receives a certificate of satisfactory completion of the American Muscle & Fitness Pilates Trainer Certification Program (AMFPT). This manual is meant to inform, entertain and educate the reader. The reader should independently verify any errors or omissions. The reader accepts sole responsibility for any use or misuse of the information contained herein. This text may not be reproduced except where noted within, or by written permission of the Author.
INTRODUCTION
Welcome to the American Muscle and Fitness Pilates Training Certification Program. Since you are pursuing a career as a Pilates trainer, you will have to decide whether you are going into business for yourself, or if you will work for someone else at a public or private health club. Either way, the pay is as much as $100 per hour and the work is rewarding.
Pilates is the latest in a series of popular fitness trends. Most clients and many gym owners will have only a vague notion of what Pilates is. You will educate them about what your service is what you can do for them, letting them know you have the ability to get clients their desired results quickly, comfortably and safely. Many health clubs and aerobics studios now require you to obtain certification and insurance before they allow you to train anyone on the premises. The Pilates certification lets club managers and owners know that you have completed a classroom (or virtual) course about how to train their members properly so that you don't injure anyone. Liability and insurance costs are their main concerns. This manual will give you all you need to know to become a safe, successful and prosperous Pilates trainer.
As a Pilates trainer you will wear many hats. Always a coach first, clients come to rely on you as a friend, confidant, psychologist, technician, problem solver, time manager, and businessperson. Keep in mind that you are in business to make money so that once you get started, your current customers must become a constant source of referrals. Their excellent results will speak volumes about your expertise. When a client's friends start to notice the improvements they're making in their physique, naturally he or she will brag about their Pilates instructor (you) and the wonderful job that you are doing for them. They will also tell friends about any negative experiences. That can kill your business in a hurry if word gets out that you're overbearing or miss appointments. Always do the right thing, and be aware of your language (never swear or curse) and statements that can be perceived as sexual harassment, especially in today's litigation crazy world.
In order to determine their readiness for any physical exercise, each client or customer must fill out a health questionnaire and waver before you train them (see following page). You can make copies of this one and have clients fill it out. Just add their name and/or gym name. The completed form should be kept in your files. Always protect yourself from any potential legal suit by purchasing a good insurance policy in case something does go wrong. The cost is only $170-$220 annually for a $1,000,000 policy. Contact the "National Health Club Association," at 1-800-765-6422, or
www.sportfitness.com
for more information and a policy. Let your insurance agent know that each customer fills out a waiver form. Tell them that you are a Certified Pilates Trainer and that "Pilates" simply means "standard floor exercises," so that the clerk on the other end of the phone is not afraid of what you might do to people. They've insured many Pilates Trainers.
Read the waiver to each client or customer and go over it with him, or it may not be considered valid in court if you ever have to go. Use common sense in every situation, and if you think someone is going to cause a problem in the long run, decline to take that person as a customer. There are plenty of people who will want to be trained by you, and you won't have to explain to a potential new client about a negative rumor they heard. That would start your relationship off on the wrong foot. Remember that your customers will quickly become your friends.
Sometime in the future, states may require everyone to be licensed and certified to practice personal training or Pilates. When they do, trainers who are already certified and running their businesses will be "grandfathered" in and will be considered licensed. You may have to pay a small annual state fee, of course. It actually makes good sense for the government to ask someone to be certified in exercise fundamentals since they will be elevating someone's heart rate to potentially dangerous levels. Cosmetologists must obtain a license before they can give a haircut. How much more important is education for the individual who can potentially injure someone? You could even be charged with battery because of questionable or dangerous training techniques that hurt someone. After completing this certification course, you will be able to train anyone in the Pilates system with confidence and safety.
Another aspect of any trainer's responsibility is to take a CPR course and know basic first aid. If someone does have a cardio-vascular accident, you want to be able to help him or her, not just watch helplessly while dialing 911. You may consider enrolling in a CPR class for your client's benefit.
PHYSICAL ACTIVITY QUESTIONNAIRE FOR:__________________________________________
READ CAREFULLY AND CIRCLE YES OR NO IF IT APPLIES TO YOU.
YES NO 1. HAS YOUR DOCTOR EVER TOLD YOU HAVE HEART TROUBLE?
YES NO 2. DO YOU FREQUENTLY HAVE PAINS IN YOUR HEART OR CHEST?
YES NO 3. DO YOU OFTEN FEEL FAINT OR HAVE SPELLS OF DIZZINESS?
YES NO 4. HAS A DR. EVER SAID YOUR BLOOD PRESSURE WAS TOO HIGH?
YES NO 5. HAS YOUR DR. EVER TOLD YOU THAT YOU HAVE A JOINT OR BONE PROBLEM, LIKE ARTHRITIS, THAT CAN BE AGGRAVATED BY EXERCISE?
YES NO 6. DO YOU HAVE BACK OR NECK PROBLEMS?
YES NO 7. IS THERE A GOOD PHYSICAL OR PSYCHOLOGICAL REASON NOT MENTIONED HERE WHY YOU SHOULD NOT FOLLOW AN ACTIVITY PROGRAM IF YOU WANTED TO?
YES NO 8. ARE YOU OVER AGE 65 AND NOT ACCUSTOMED TO PHYSICAL EXERCISE?
IF YOU ANSWERED :
YES TO ONE OR MORE QUESTIONS:
IF YOU HAVEN'T RECENTLY DONE SO, CONSULT WITH YOUR DR. BY PHONE OR IN PERSON, BEFORE INCREASING YOUR ACTIVITY LEVEL! TELL HIM WHAT QUESTIONS YOU ANSWERED YES TO ON SURVEY. AFTER MEDICAL EVALUATION, SEEK ADVICE FROM YOUR DR. AS TO YOUR SUITABILITY FOR: UNRESTRICTED PHYSICAL ACTIVITY, PROBABLY ON A GRADUALLY INCREASING BASIS; RESTRICTED OR SUPERVISED ACTIVITY TO SUIT YOUR NEEDS, AT LEAST INITIALLY. IF YOUR DOCTOR IS AWARE OF THE PROBLEM, PUT YOUR INITIALS AND A NOTE NEXT TO THE QUESTION(S) YOU ANSWERED "YES" TO, EXPLAINING WHY IT IS O.K. TO PROCEED WITH CAUTION.
NO TO ALL QUESTIONS:
IF YOU ANSWERED ACCURATELY, YOU HAVE REASONABLE ASSURANCE OF YOUR PRESENT SUITABILITY FOR: A GRADUATED EXERCISE PROGRAM. IF YOU HAVE A TEMPORARY MINOR ILLNESS, LIKE A COLD, POSTPONE INCREASED ACTIVITY.
WAIVER/RELEASE FORM
YOU AGREE TO THE TERMS OF THIS RELEASE FORM. TRAINING AND EXERCISE IS A STRENUOUS ACTIVITY. YOU, THE GUEST/CLIENT/MEMBER, ARE AWARE THAT YOU ARE ENGAGING IN PHYSICAL EXERCISE AND THAT THE USE OF EQUIPMENT, TRAINING AND INSTRUCTION, COULD CAUSE INJURY TO YOU. YOU ARE VOLUNTARILY PARTICIPATING IN THESE ACTIVITIES AND ASSUME ALL RISKS OF INJURY THAT MIGHT RESULT. YOU AGREE TO WAIVE ANY CLAIMS OR RIGHTS YOU MIGHT OTHERWISE HAVE TO SUE _______________________, OR ANY AGENT, EMPLOYEES OR INSTRUCTORS, OR __________________________, FOR INJURY TO YOU AS A RESULT OF THESE ACTIVITIES. IT IS ALWAYS ADVISABLE AND RECOMMENDED TO CONSULT YOUR PHYSICIAN BEFORE UNDERTAKING THIS OR ANY EXERCISE PROGRAM.
SIGNED (PARTICIPANT):___________________________DATE:____________
ADMINISTERED BY:
PERSONAL TRAINING AGREEMENT
THIS AGREEMENT is made and entered into this 9
th
day of October, 2000 by and between (your name and address) and (client's name and address).
WHEREAS (your name) and (client's name) wish to enter into this agreement in order to define their respective rights, duties and obligations.
NOW THEREFORE in consideration of the terms, covenants, conditions and mutual promises contained herein, and other good and valuable consideration, it is hereby stipulated and agreed as follows:
(your name) will provide personal training to (client's name).

For this service rendered by (your name), (client's name) will pay (enter amount), or (enter amount) for each of (enter number) training sessions at the rate of (enter number) training sessions per week.

The training period will begin on (enter date) and end on (enter date).

(client's name) provides (your name) with a 24 hours notice of cancellation
or will pay for the training session.
5. Sessions may be rescheduled with 24 or more hours notice.
By signing below, the undersigned stipulate and agree that they have completely read this agreement, that the terms are fully understood and voluntarily accepted by both parties and that this agreement is not signed under duress.
Payment received by (your name) from (client's name) $______________
(circle one and have both¯ initial or cross off 2nd line if payment is received in full, both initial it)
Payment represents full partial payment with payment schedule as follows: $______________ due on (enter date) and balance, $______________ due on (enter date).
By signing below, the parties hereto have executed this agreement as of the day and year first written above.
_________________________________________ X___________________________
(client's name) (client's signature)
_________________________________________ X___________________________
(your name) (your signature)
SETTING UP YOUR BUSINESS
If you decide to go into business for yourself, you will need to go to the County Clerk's office and file a "Doing Business As" certificate, or D.B.A. You will be asked to select a name for your business. Try choosing a name that describes your business, like, "Barb's Pilates Classes," or, "Ed's Home Pilates Training," so that when people read your business card they know exactly what you do.
You will be assigned a tax identification number (usually your social security number) and you can write off your business expenses against your income at tax time. You may be required to file quarterly tax statements if you are making a lot of money, because the government doesn't want you to have their money for any longer than you are entitled. Go to
www.irs.com
to find out tax information. Start keeping track of your expenses and keep all of your receipts. Keep a record of all of all training fees received and if you know any accountants, talk to one about setting up your business.
As soon as you get certified, make some business cards on your computer (buy the peel off cards at Staples) with your phone number and start leaving them everywhere. Pass them out to your friends. Make sure to tell everyone you meet about your new Pilates training business and ask if they know anyone who might be interested in having a Pilates trainer.
Set your rates up as a per session fee, for example: $25 per one half-hour session. If you are running classes, the rate should range from $12-$25 per session. Make up some flyers to give to potential clients. Try to be as consistent as possible with rates so that each client or customer pays the same amount or you may end up in trouble when you invite them all to a party and they start talking. Don't be afraid to raise your rates as you get busier. You are running a business and are entitled to make a profit from your efforts even though you may have developed friendships with your trainees. Since now they are friends, they will understand your need to raise prices from time to time.


MARKETING YOUR BUSINESS
Try advertising in local penny savers, newspapers, the Internet, and fitness magazines to get a client base. They are inexpensive ways to get customers. When you finally get your first customer, ask for referrals. Hairdressers, hospital workers or restaurant employees always come into contact with a lot of chatty people who like to gossip. They will be your best references. If you can get a client who works in any of those fields, your business will really take off!
Your best income and long term financial security will come from having each client or student sign and pay for a long term training contract. Have them pay all the fees up front and let them know that your cancellation policy is at least twelve hours notice or you will have to bill them for any scheduled work out they miss. If they miss and you haven't been paid yet for that session, chances are you won't be. If you have already received the money for the missed session, you simply deduct the session as if the individual had trained. A pre-paid package will be more economical for the customer than a daily rate. If you charge $25 per 30-minute session, a good package would be $2500 for 110 training sessions. That's only ten months of training at the rate of three appointments per week. Most clients will peter out before they ever use all that training up, and you will still hold on to the money, in case they resume working out (let them know in advance about your no refund policy).
It is in your best interest to give clients a written copy of all your rules so you both know what your obligations are at the initial consultation. Have them sign it and keep a copy on hand. This will prevent misunderstandings and hard feelings in the future. Take a look at the fun "Pilates Trainer's Ten Commandments." You can use this sheet and print copies to hand out to clients to review. Both of you will be referring back to it from time to time. Always let the customer know the rules up front.
You must strive to make it to all your scheduled appointments on time. Most trainers, unless they work at a particular health club, will spend the bulk of their time driving to and from appointments. Invest in a day planner and a cellular phone so that you can double check with clients to make sure they remember their appointment. There will always be cancellations. Expect at least one cancellation per workday. Cancellations are only OK if you are being paid for them anyway. You can take a break and go get a cup of coffee.
You must always get at least each week or month paid ahead of time. The ability to process credit cards will greatly enhance your income. Ask your bank about getting a credit card machine when you open your business account if you own a gym or open a training salon. If you don't own your own store, all you'll need is a virtual terminal to handle charge card orders. That is an online store that allows you to process credit cards. You'll need a business web site, too.
To get a free web site and set up a virtual terminal, go to
http://golinq.com
, or do a search on virtual terminals or credit card processing. Golinq offers a lot of free services like banner exchange promotions to help increase traffic on your site. With virtual credit card processing, you'll be able to have clients or customers log on to your web page and pay by credit card over the Internet. You can get their card information and do it yourself, too. The money will automatically be deposited into your business bank account.
Here's a technique for you to get more business than you can handle. Go to <
http://anywho.com
> and do a search based on the most exclusive and prosperous streets in your city. This directory will give you the names and numbers of everyone who lives there. Call them up and tell them that you're a Certified Pilates Trainer and you are accepting new clients for one-on-one home training. Try to get them to agree to a no cost, no obligation interview where you can sell them the benefits of having a Pilates trainer come to their house to train them. You're bound to pick up a couple of appointments. Bring your questionnaires, contracts and waivers for them to sign when you close them. Once you start training them, ask if you can use them as a referral. Call all their neighbors and let them know that you train their neighbor down the street (tell them their name and house number). This system never fails.
When you get too busy, you'll need to develop a young trainer to pick up the slack and start taking your overload. Find a fit young guy or gal and get them certified in Pilates methods. Introduce them to your current clients and students. Tell them that he or she is your assistant, and they'll be filling in for you once in a while. Pay your new staff half the regular fee you charge. This way, you can leverage your time and make money even when you're home watching TV!
Eventually you should groom two or three helpers so you don't have to train anyone yourself. Try to sell your services to a local health club at that point, especially a new club opening up. They'll welcome your help with their staffing problems. I hope these ideas give you a new way to look at your business.
THE TEN COMMANDMENTS OF PILATES TRAINING
1. Thou shalt always be ready to train at thy appointed time.
2.Thou shalt call at least twelve hours ahead to cancel or pay full price for thy missed session.
3.Thou shalt do all that the trainer tells thou with no murmuring.
4.Thou shalt eat the way thou are commanded to by thy trainer.
5.Thou shalt not bounce any checks lest thou pay a $25 fee for it.
6.Thou shalt tell all of thy friends about the wonderful things thy trainer has done for thou.
7.Thou shalt not use foul language or take the name of God in vain.
8.Thou shalt cheerfully and joyfully attend thy training sessions, and reflect lovingly upon them.
9.Thou shalt get good results and blessings if thou doest all thy trainer commands thee.
10.Thou shalt have curses (fat and weak) if thou failest to follow any of thy trainer's commands.

Thy mark______________This day________________


QUESTIONNAIRES
Here are the questionnaires that your clients should fill out and sign. The first one should be filled out during your initial conversations with the customer. Read each question to the client and make sure they understand it. Have them tell you the answer verbally, then let them check the appropriate box.
The second assessment form should be used as a measuring stick after several weeks of training to determine whether or not you are meeting their expectations. Sometimes people may not feel comfortable telling you that they don't like some aspect of their training because they like you, but you may lose them if the issues are not addressed. And you will be unaware there is a problem until they suddenly stop showing up for training with you. That's the hard way to find out they are not happy, so use these assessment sheets and administer them frequently.
The feedback from questionnaires can help guide the direction of your business. When you get a glowing response, always ask the client for a referral. Tell them there's always room for one of their friends in your schedule. If someone is not satisfied with his or her training, be flexible and let him or her know that the workout is for him or her, so you can make any changes they want. Never be dogmatic or pig headed. What do you care if they like leg presses better than squats? Just give them what they want. Training is customer service, and keeping your customers happy is your number one priority. Your livelihood depends on it.
PILATES TRAINING ASSESSMENT FORM

WEIGHT: DESIRED WEIGHT: BY (DATE):
WOULD YOU DESCRIBE YOURSELF AS (CIRCLE ONE): ACTIVE OR SEDENTARY?

HAVE YOU BEEN ABLE TO ACHIEVE GOOD RESULTS WITH TRAINING AND DIET IN THE PAST? (CIRCLE ONE)
YES NO NEVER TRAINED
IS YOUR JOB PHYSICALLY DEMANDING OR DO YOU SPEND A LOT OF TIME SITTING? (CIRCLE ONE) ACTIVE SITTING
WHERE ARE YOU ON THIS SCALE?
LEAN 1 2 3 4 5 6 7 8 9 10 FAT
WHAT DO YOU WANT FROM A PILATES FITNESS PROGRAM? (LOSE WEIGHT, TONE UP, ETC.)
HOW MUCH TIME CAN YOU DEVOTE TO TRAINING EACH WEEK (HEALTH EXPERTS RECOMMEND 3-5 HOURS OF EXERCISE PER WEEK FOR OPTIMUM RESULTS)? 1 2 3 4 5 HOURS
ARE YOU WILLING TO FOLLOW ALL INSTRUCTIONS TO THE LETTER, ESPECIALLY REGARDING MENU, FOR 8-12 WEEKS IN ORDER TO ACHIEVE YOUR GOALS?
DID YOU KNOW THAT NUTRITION IS AT LEAST 80% RESPONSIBLE FOR WEIGHT GAIN OR LOSS, EVEN WHEN EXERCISING (BED RIDDEN OPTIFAST PATIENTS ROUTINELY LOSE 100 POUNDS WITHOUT EXERCISING)? YES NO
WHAT DO YOU EXPECT FROM A PILATES TRAINER?

PILATES TRAINING REVIEW SHEET
DO YOU FEEL LIKE YOU'RE GETTING THE RESULTS YOU WANT FROM YOUR TRAINING (ALTHOUGH, THEY'RE NEVER FAST ENOUGH)? YES NO
IF NOT, WHAT DIRECTION DO YOU FEEL WE SHOULD MOVE IN? (EXAMPLE: MORE MOTIVATIONAL TALKS, NEW EXERCISES, ETC.)
WHAT DO YOU LIKE ABOUT YOUR TRAINING PROGRAM (EXAMPLE: PACE, EXERCISES ETC.)?

WHAT DO YOU DISLIKE ABOUT YOUR TRAINING?

WHAT WOULD YOU LIKE TO CHANGE IN YOUR WORKOUT?

WHAT DO YOU WISH TO KEEP THE SAME?

WHAT AREAS DO YOU FEEL YOU WOULD LIKE TO FOCUS ON?

DO YOU PREFER SPONTANEITY OR A ROUTINE THAT YOU CAN SETTLE INTO?

LIST ANY "MUST" OR "MUST NOT" DO'S:
WHAT OTHER SERVICE WOULD YOU LIKE FROM YOUR PERSONAL TRAINER?
SUGGESTIONS:

THE MUSCULAR SYSTEM

As a Pilates Trainer, you will need to know the basic muscle groups of the body. Here is a synopsis of the major muscle groups and how they work. Let's start at the head and work our way down.
The muscles in the sides of the neck are called the sterno mastoids, which hold the head up and rotate it. In the front of the body, beneath the neck, there are the pectoralis major and minor commonly called pecs/chest. Their job is to push objects away from the body. The deltoids, which cap each arm and attach it to the shoulder joint, are a three-headed muscle with the anterior, lateral and posterior heads. The deltoids raise each arm to the side and overhead. Beneath that, on the front of the arm are the biceps (curl the arm) and on the back of the arm are the triceps (straighten the arm). The forearm is made up of the brachialis on the top and the extensor carpi on the bottom of the forearm that curl the hand up and down.
Below and behind the neck are the trapezius muscles or "traps." These are responsible for the shrug motion. Down the back below the traps, there is the latissimus dorsi that gives the back its V-shape. Other muscles included in the upper back are the rhomboids, teres major and minor, sub-scapularis, super-spranatis and infra-spranatis which hold the arm and shoulder joint together and are involved in pulling things towards you from the front. They are generically referred to as the rotator cuff. Beneath those muscles are the spinal erectors or lumbars, located in the lower back. They keep us upright or bring one to the standing position after bending over. The gluteus maximus is the buttocks, used in extending our legs and standing straight. The biceps femorus are located under the glutes, commonly called hamstrings, which kick the heel up towards the buttocks. The gastrocnemeus and the soleus make up the calf muscles and allow us to stand on tiptoe and jump.
This short lesson should be enough to help you answer questions about what a particular exercise or muscle group does. Here is a rule to help you determine what muscles a machine or exercise works even if you have never used or seen the machine or exercise. Always remember that muscle fibers twitch, or shorten. This is called a concentric contraction, which causes pushing or pulling. Static contractions are isometrics, where a muscle or group of muscles pushes against an immovable force. The third type of contraction is eccentric, or negative, a controlled lowering of a weight. So, remember the rule, muscles always pull on levers (bones) by shortening to cause movement, even when the exercise requires pushing a weight. Please study the following diagrams and memorize only the major muscle groups mentioned above.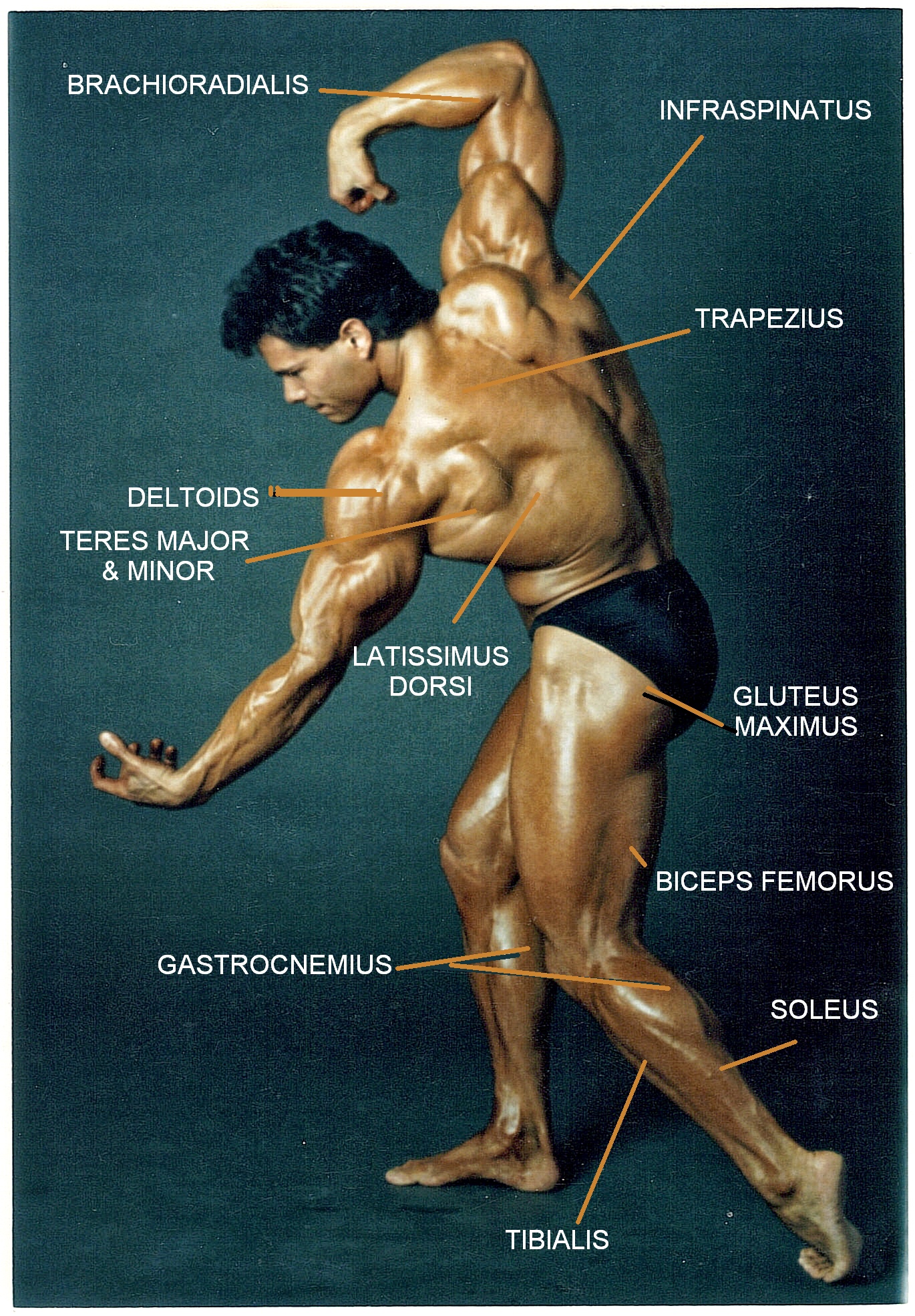 PILATES THEORY
Pilates is a generic term for an exercise system created by Joe Pilates (not JoeWeider) in the 1900s. Pilates (pronounced pi-la-teez) is a program of exercises that strengthen muscles, improve posture and especially target the midsection and hip flexor muscle groups (abs, obliques and spinal erectors), mostly without weights or equipment. Although Mr. Pilates did develop equipment that would allow incredible stretching routines, most movements are similar to traditional floor exercises with an extra twist, which can be performed anywhere, anytime, without any equipment. Pilates actually used the machines that he invented to help stretch and rehabilitate injured WWI GIs. All anyone needs to use the system today is a space on the floor (and a trainer).
Pilates offers a great method of training for someone who works out at home and doesn't have equipment. It is also a way to quadruple your income as a Certified Pilates Trainer/Instructor by teaching Pilates classes (rates are $12-$25 a person per class), especially if you jump on the Pilates bandwagon before anyone else in your town does. Because fitness enthusiasts and trainers recently rediscovered this exercise regimen, it has become the latest craze since spinning and kick boxing classes. Now is the time to ride the wave. It should become the crux of your business marketing campaign.

PILATES EXERCISES
Most Pilates exercises are done on a mat, but you may have access to a reformer, ball or other apparatus that can help you train your clients. They range from back and side bends lying over a bench (or big ball) to slipping a sling over your ankle and stretching it in front, behind, or to the side. Many basic floor exercises have become Pilates movements by default.
Modern weight training equipment like Nautilus duplicate a lot of Pilates movements, but with more control and safety. The beauty of Pilates to the Instructor is that you can profit on the popularity of the Pilates name. Today, Pilates is not only one of the safest systems of exercise, but it is also especially beneficial for minor lower back problems that result from a lack of abdominal strength and stretching.
The Pilates method is not a weight loss system, but any regular exercise program coupled with dietary restrictions will produce fat reduction and muscle tone. This is especially true in untrained individuals. Adding steady state aerobic activity like walking, the stationary bike or the elliptical climber for thirty minutes to an hour each day will greatly increase weight loss in your clients that are overweight.

As a practitioner of Pilates movements, it will be your duty to familiarize yourself with the exercise performance of the Pilates' system before you can accurately and safely train your customers. Go through about 10-20 reps of each exercise to familiarize yourself with the program. They are especially useful in their present form for injury rehabilitation (their original use) and many are commonly used today as back rehab exercises in physical therapy centers. The entire routine should never take more than thirty minutes.
You will actually use only floor exercises and a mat or open area for Pilates. your clients begin the floor exercises with easy movements and progress to more difficult exercises. They should do the exercises in order. Pilates is a great way for you to help clients get fit while capitalizing on its popularity.
Guide your clients toward the simpler movements until they feel comfortable and then guide them into the more complex contortions. Pilates based floor exercises are the ultimate home training system without equipment and a boon to personal fitness trainers. As clients move through these calisthenics, go over the main points of the Pilates philosophy below.
PILATES TIPS
Have your trainees breath deeply and naturally. Tell them not to hold their breath. They might unconsciously do so during the more demanding abdominal exercises. Always pay attention to good form and maintain control. Avoid choppy movements and keep the exercise cadence smooth, like kinetic stretching. Never confuse Pilates training with Plyometrics, which is ballistic impact training.
Listen to your clients, especially when they first start this (or any) system of training. Depending on their present fitness level, some exercises may be much too demanding for them to complete for their first few workouts. A lot of attention is placed on deep breathing in Pilates, like Yoga. Have clients discontinue exercising immediately if something causes acute pain. If they have minor muscle weakness related lower back problems, this routine should help, and may even cure them.

Clients should start the floor exercises with simple, easy moves and progress to more difficult movements. Try to do the exercises in order. Practice the easier ones until you feel confident that they can take the next step, and only then move onto the next exercise. Have clients flex their abs, glutes, lower back and hips. These isometric contractions will be stressful for some really out of shape individuals, and will act as a warm up.

ROUTINE
Teaser (100)
This is a great warm-up exercise, which helps elevate oxygen in the blood stream and prepares the body for exercise. Have the client breathe in time with each rep.
Have client lie on their back with knees bent over chest into 90-degree angles with the floor while bring their arms alongside the body, palms down. Extend the thighs. Maintain a flat back and let their stomach sink into their spine.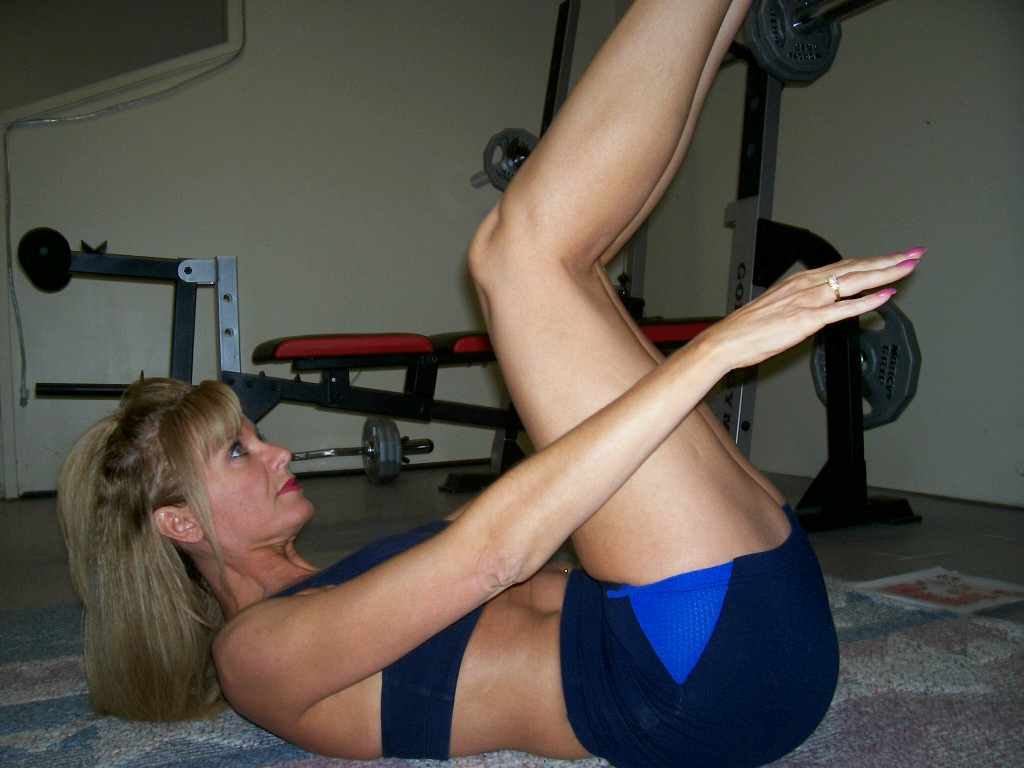 Start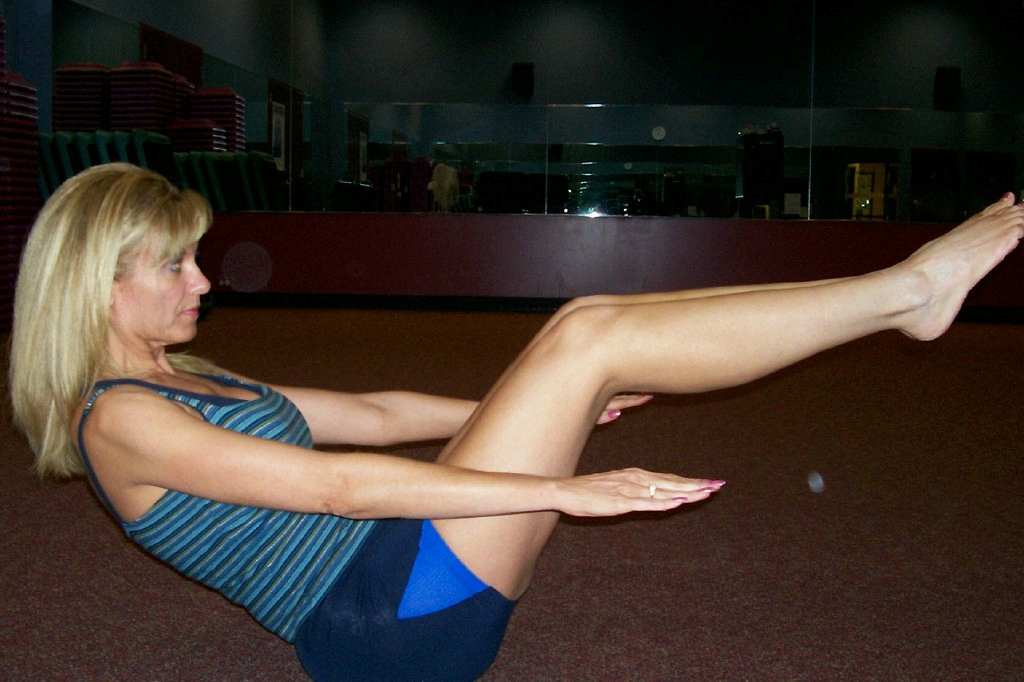 Finish
Lift head and neck off the mat and begin pumping the arms straight up and down as if they were slapping the floor. Pump their arms and breathe simultaneously for 20-30 breaths. Work up to 100 repetitions with their head in line with the torso. Muscles Trained: Abs, shoulders, thighs
Points to remember:

Have them suck the stomach into their spine while breathing deeply.

Keep their head and neck raised while pumping their arms.

Inhale on the roll back, exhale on the roll up, and do not use the shoulders to propel their body.
Roll up - Roll Over (Rolling Like a Ball)


Have clients start by sitting tall with knees into chest and place a hand underneath each thigh, bringing knees close to their chest. Tuck chin into chest, keep elbows wide and lift feet slightly off the floor using their midsection muscles to balance.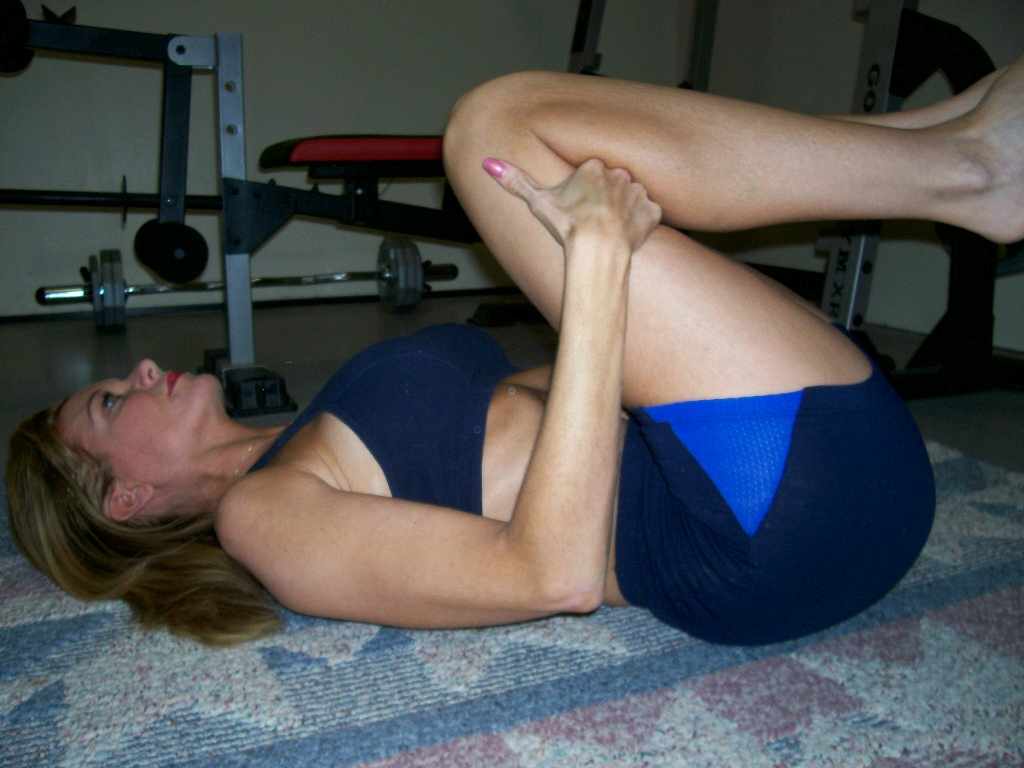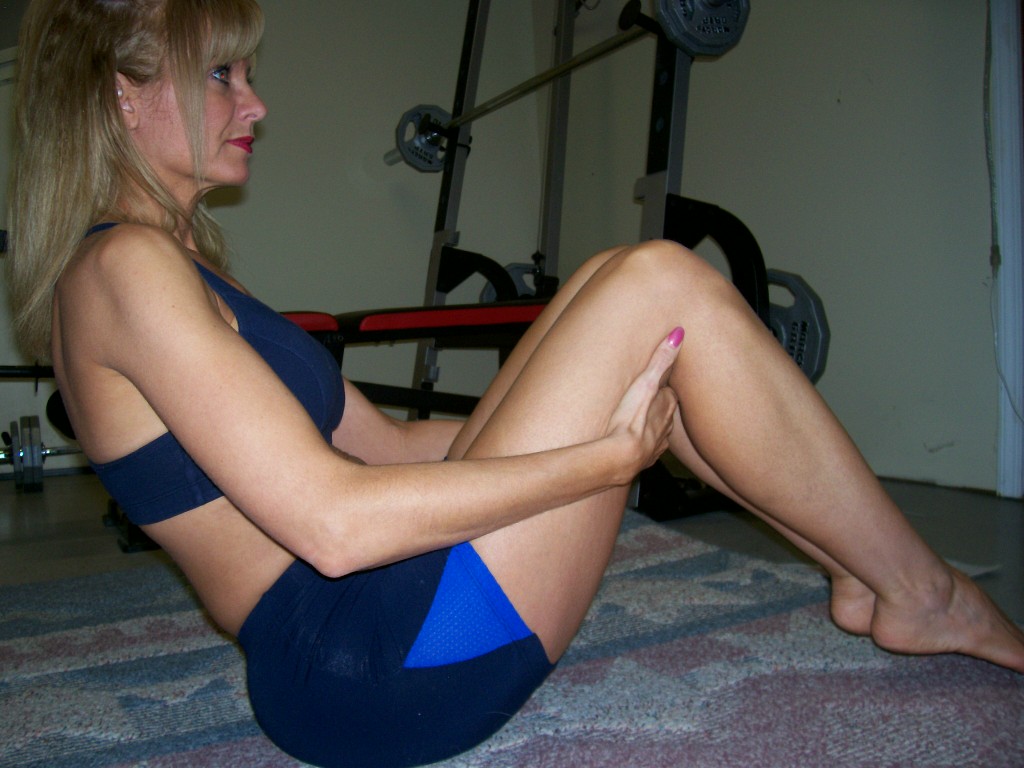 Middle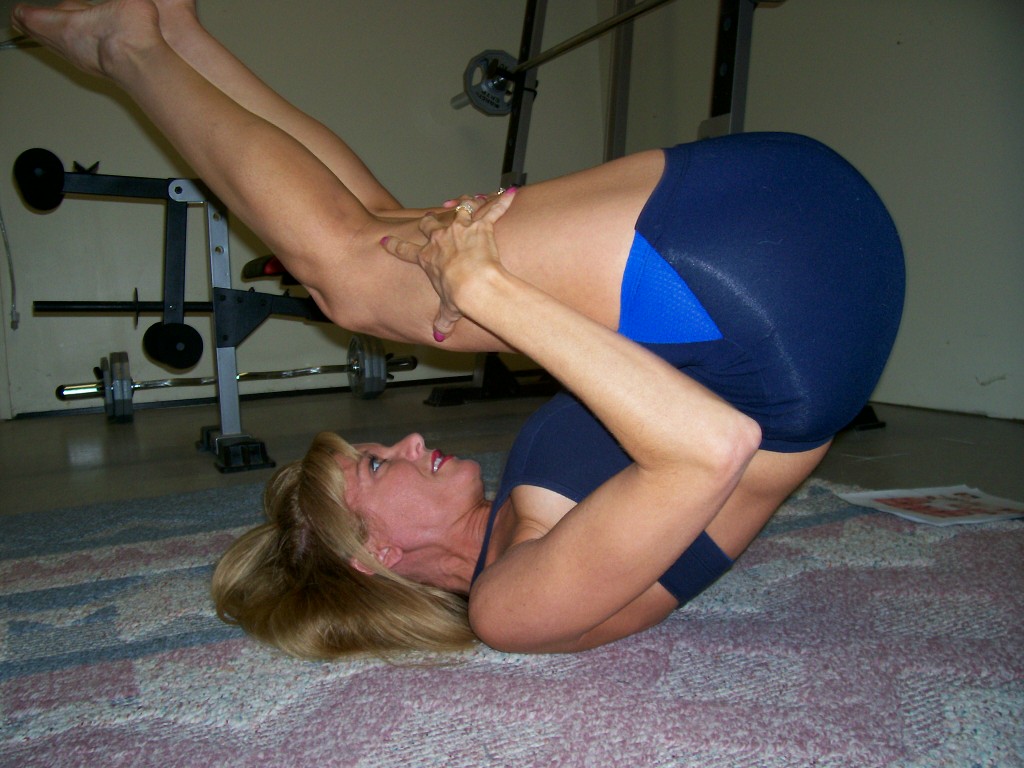 Finish

From their tailbone, have them roll it out backward to their shoulder blades (not their neck), then forcefully, but slowly, use the abs to bring you back to start. Rock back and forth with control six times. To challenge their abs especially, only allow them to put their feet on the floor after they finish 5 to 20 reps.

Inhale on the roll back. Muscles trained: Abs, biceps, back, glutes, shoulders

Points to remember:
They should roll back from their tailbone.

Have them balance on their shoulders, not their neck.

Single Leg Stretch

If the client's neck becomes fatigued during any of the exercises, have them rest it back on the mat for a few seconds. Have them focus their eyes between their legs, they could strain the neck by looking up.
To start, have students lie back and pull both knees into chest to stretch the spine. Then, extend right leg straight up to ceiling and curl torso up until they can reach their ankle (or shin) with both hands. Have them keep the opposite leg (left) about 8-

10 inches off the mat and press their lower back to the mat. Inhale deeply and pull the straight right leg closer to their head.
On a deep exhale switch straight legs by scissoring them until they can grab their left ankle with both hands. Keep eyes focused on their abs and don't employ the chest or shoulders for assistance. Perform 5-10 reps with each leg. Permit no rocking or straining.
Points to remember

Curl torso up until you can reach their ankle.

Don't use the chest or shoulders.

Get them lie to on their back bringing both knees into chest, neck and chin up, and have them hold onto their right shin with both hands. They should extend their left leg up perpendicular to floor and exhale deeply, contracting the abdominals. Hold this position for several breaths.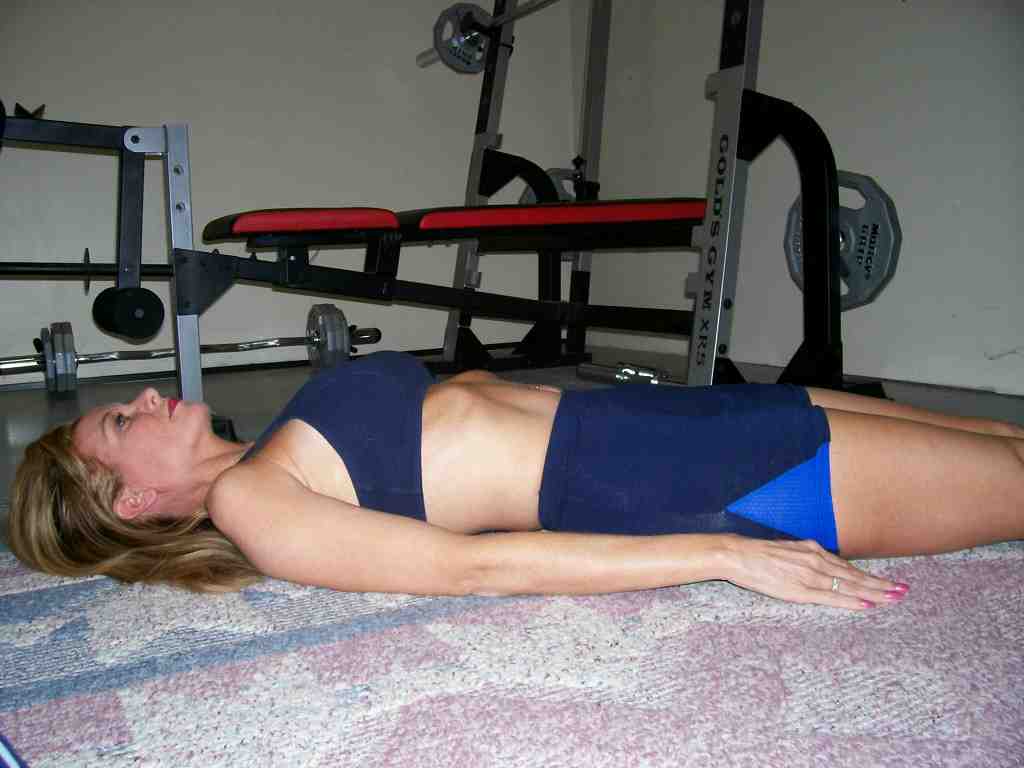 Start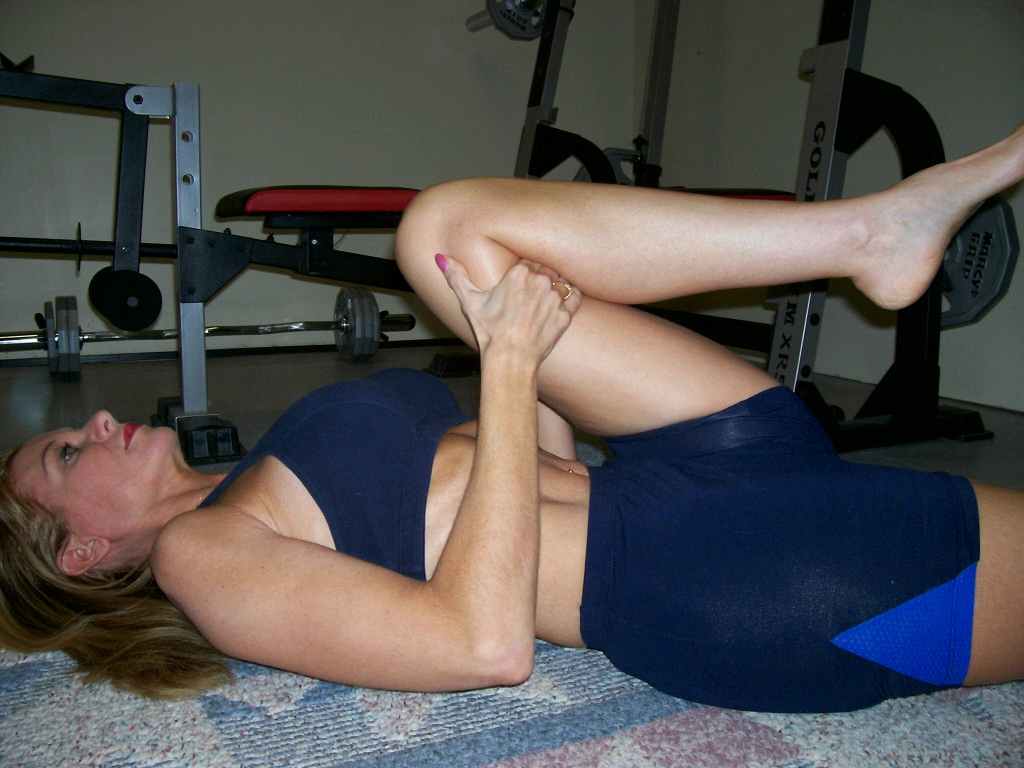 Finish

On the next inhale switch leg positions in a controlled manner while keeping chin lifted. Hold on the left shin for a few breaths. Slowly have them alternate sides for three reps, while pressing the lower back even further into the mat as they move smoothly through the exercise movement. Muscles trained: Glutes, hamstrings, lower back, shoulders, biceps.
Points to remember:

Avoid neck strain by having them focus on a spot between their legs.

Make them keep the chin up and keep their lower back flat on the floor.

Single one leg lying circles

Lie back with head down to the mat and arms at their sides, palms down. Press their palms to the floor to boost stability. Extend right leg straight up to ceiling and keep opposite (left leg) flat down on the floor. As you grow stronger, you'll gradually make bigger circles. Maintain control through their hips and legs during each part of the circle their spine to the mat and make sure their lower back maintains contact at all times.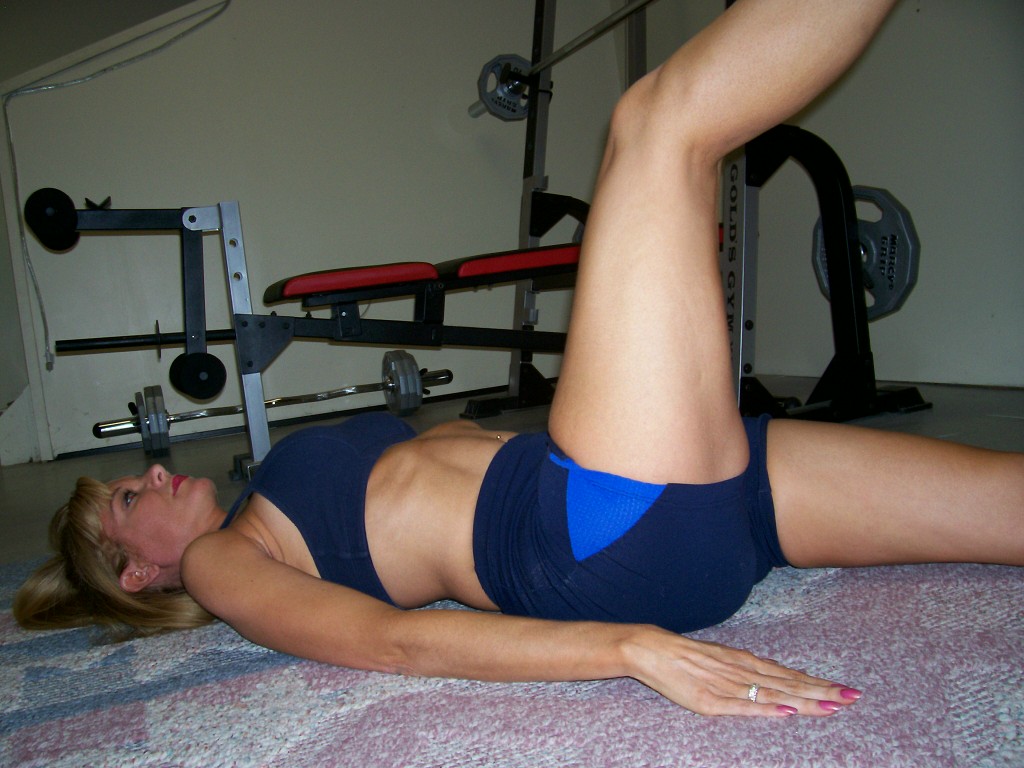 Start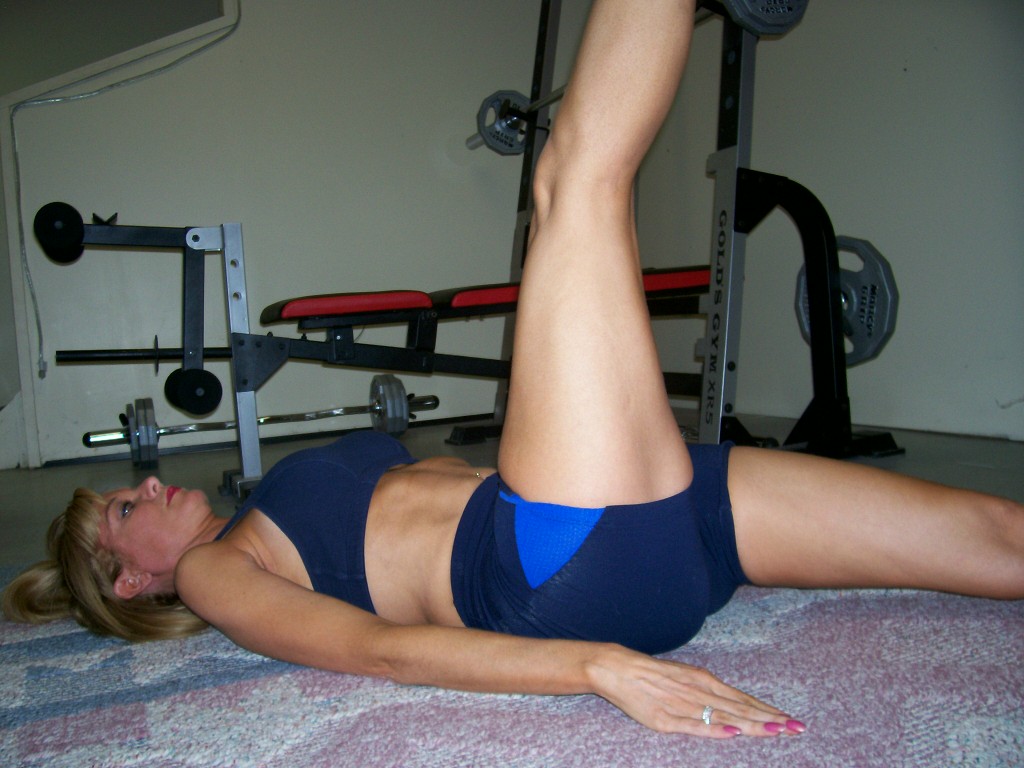 Finish

Slowly make giant clockwise circles with their right heel without letting their lower back arch up at all. Envision leading each circle from the inside of their knee instead of their outer thigh and perform 3-5 powerful, slow circles with each leg. The whole movement should look like the illustration below. As they grow stronger, gradually make bigger circles. Maintain stability with the hips and legs during each part of the circle. Muscles trained: Abs, thighs, glutes, hamstrings, adductors.

Points to remember:
Begin by pressing their palms into the floor to increase stability.

Slowly rotate their leg in a clockwise circle. Do not allow their lower back to arch up during this exercise.

Single leg circle Finish with their leg pointing across the opposite thigh.

Twisting Crunches

They're training all midsection muscles in this movement, so have them control their momentum. As they switch sides imagining the action of windshield wipers will help them with the movement.
There are a lot of ways to cheat during this exercise, so have them mentally move through this checklist to improve their technique:
Have them concentrate on their waistline twist each time and never try rushing through the exercise.
Keep elbows extended wide and do not allow them to touch down.
Do not let extended leg drop too low toward the floor or they may strain their back.
Use only their abs, obliques, glutes, abductors and adductors to initiate the movements never using the neck, shoulders or lower back.

Lie back with hands behind their head for support and knees bent into chest. Extend straight left leg out about 6-8 inches off mat and twist upper body until right elbow nears left knee. Inhale as you twist up and lift torso up until upper back and shoulders are off the mat.
On a deep exhale switch sides until left elbow nears right knee. Imagine their back and butt anchored to the mat so their body does not rock during the transition. Using
precision and slow motion, alternate 5-10 times on each side of their body. Muscles trained: abs, obliques, neck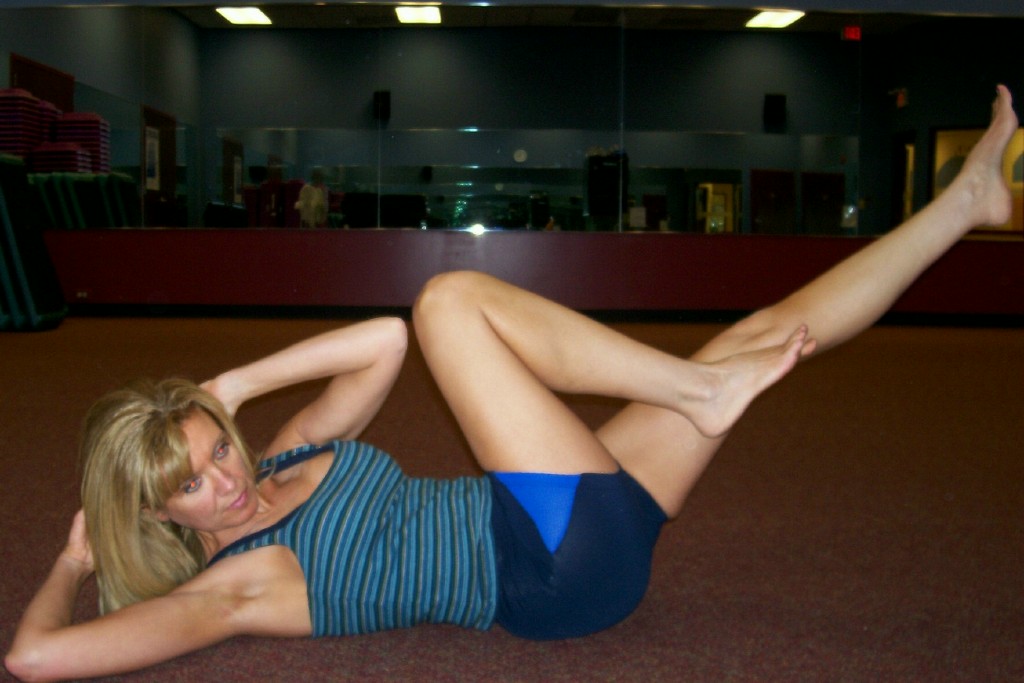 Inhale while twisting up.

Exhale while switching sides.

Leg Kicks (curls)
The key to this lower body exercise is to remain lifted through their shoulders and remain perfectly still through their upper body as you kick. Try to lengthen through the crown of their head to maintain a long neck.
Lie on their stomach and press pubic bone firmly to the floor. Come up to their elbows and stack them directly beneath shoulders. Ball their hands into fists and press them into the mat in front of you. Squeeze their butt and thigh muscles to stabilize themselves.

Kick left heel into left glute like a leg curl. Keep right leg straight and in contact with the mat while the left leg kicks. Alternate each side for five repetitions and when finished, instruct clients to sit back on their heels while kneeling in a praying position to stretch the lower back. Muscles trained: Glutes, hamstrings, lower back.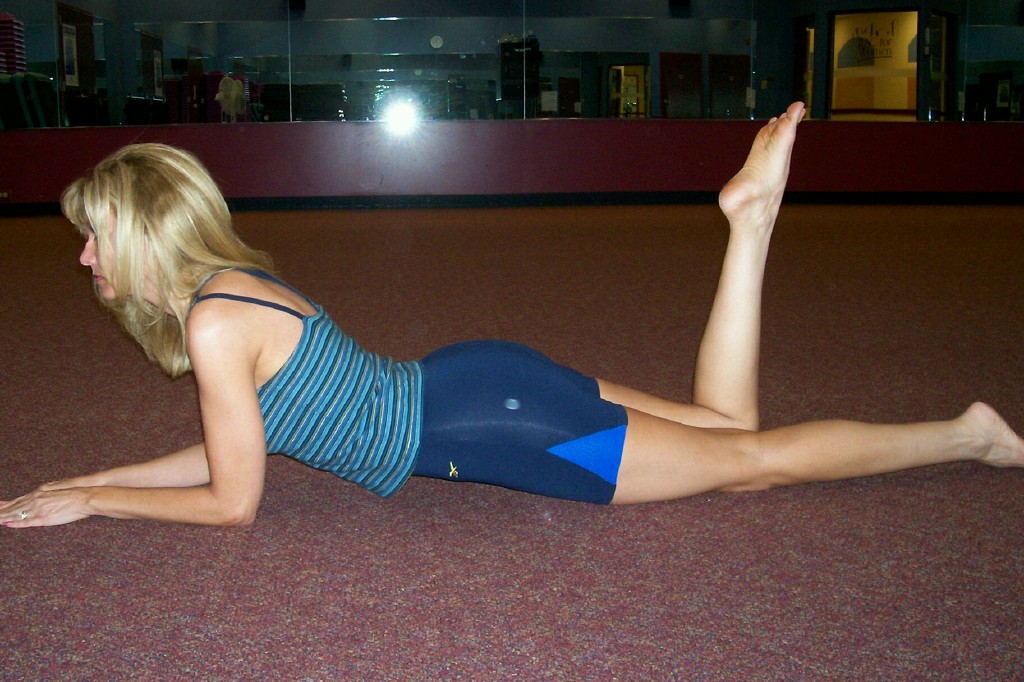 Points to remember:
Squeeze the glutes and thighs while kicking.

Keep their upper body as still as possible during this exercise.

Helicopter
Plant the student's hips and bottom into the mat and allow all movement to come from the waistline muscles. If they're really inflexible, allow one or both knees to bend slightly through the twisting motion. Instruct them to sit up erect with legs extended in front and open the legs wider than the hips while pointing the toes out. Stretch arms out to the sides, parallel to the chest and twist the torso to the left until right hand fingers touch or come close to their left toes. Exhale deeply, stretching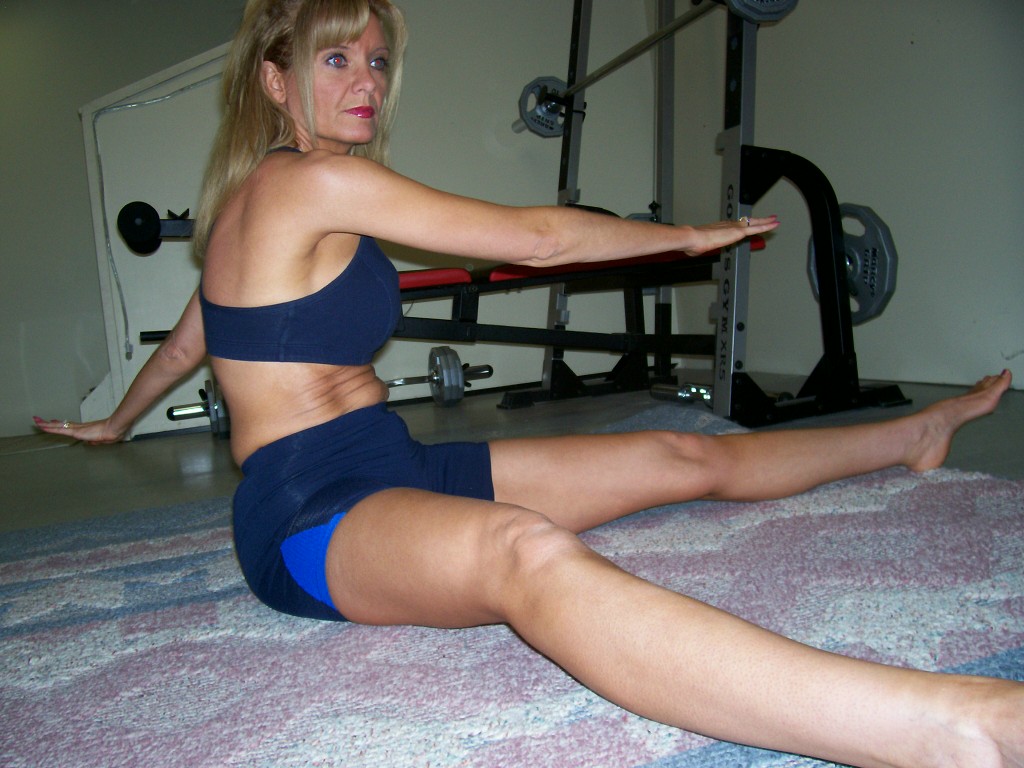 Start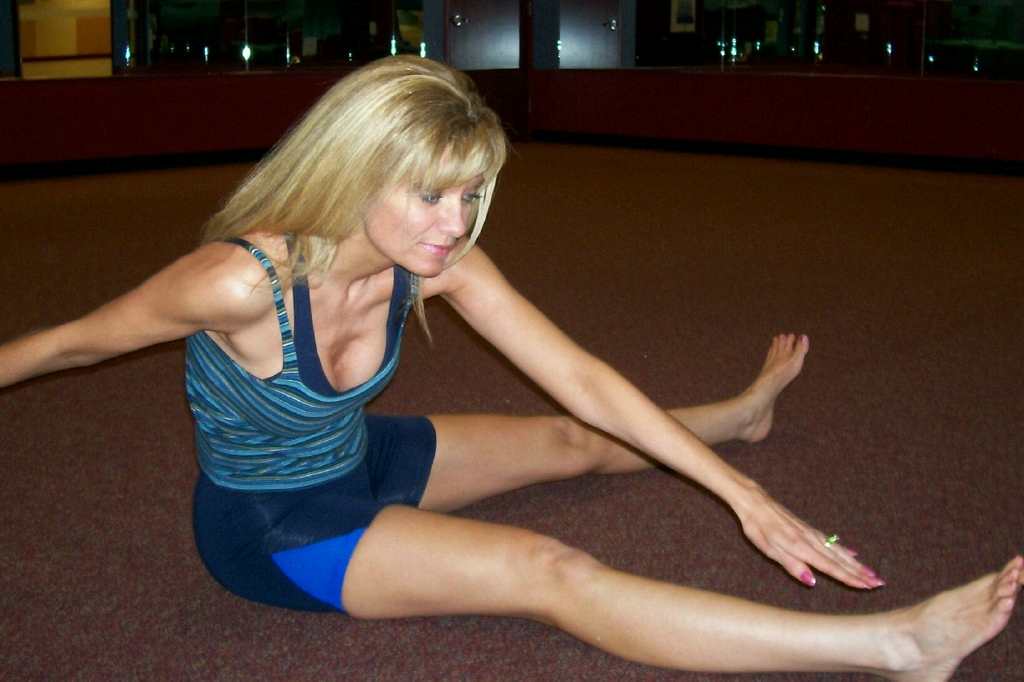 Finish
the chest while coming closer to the left toes. Inhale and prepare to switch sides.
Pull the abs firmly in toward the spine to protect their back and twist first to the right side through the waistline. Alternate four very controlled repetitions as you stretch head and neck to opposite sides. The head should be the last part to come up.
Exhale as you reach forward.

Remember to keep their movements fluid and strict, no cheating.
Don't allow them to drop the head back or slouch forward. To properly stretch the back, neck and shoulders, they must suck in their stomach up to their spine and keep their chest held high. Muscles trained: Hamstrings, low back, obliques, abs, shoulders.
Push up
Have the client lie on his or her stomach and bend both arms so their palms are flat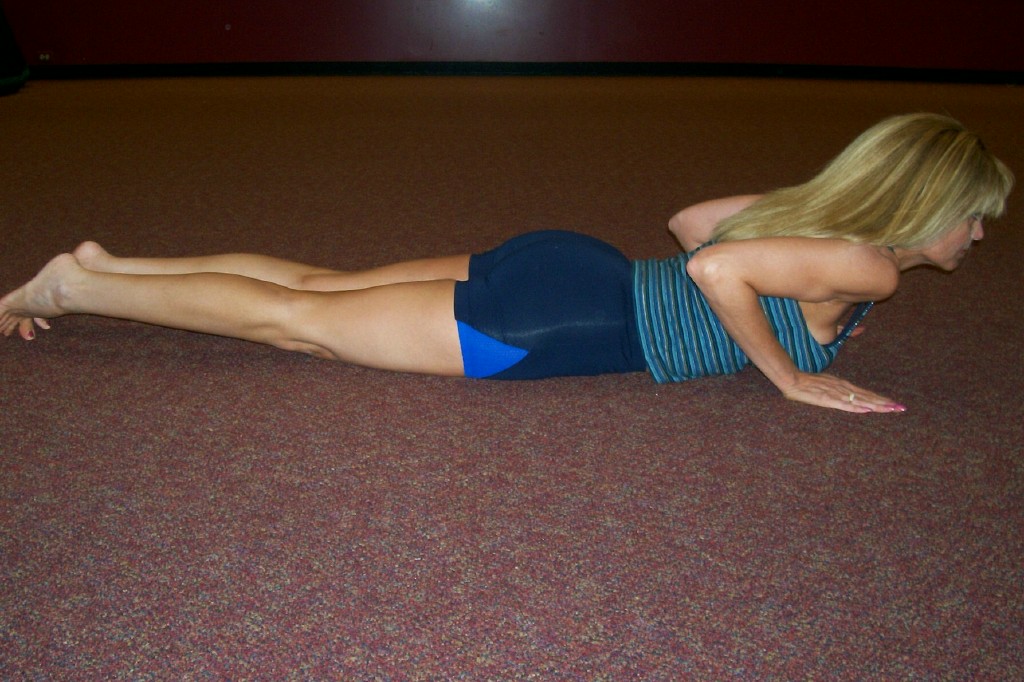 Start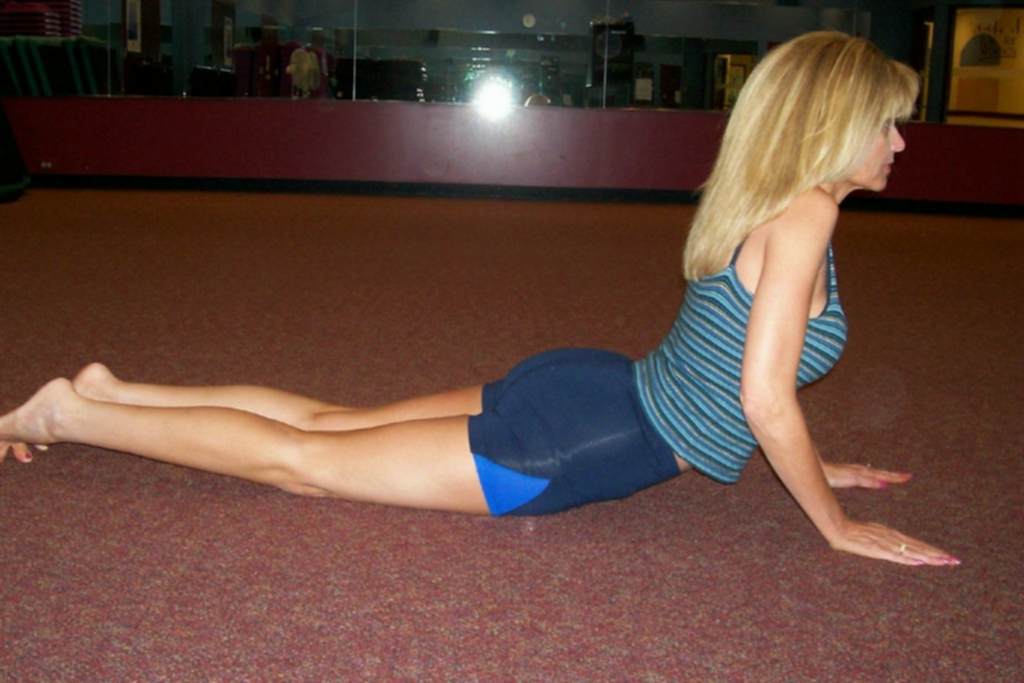 Finish

on the floor underneath their shoulders. Squeeze inner thighs together and press the tops of their feet to the mat. Inhale and tell them to straighten their arms while they push their torso up to the ceiling.
Press arms up to full extension and keep belly tight to inhale/exhale deeply for a few breaths. Contract their glutes to support their spine and gradually lower back to start position. Repeat three times. Muscles Trained: Chest, triceps, shoulders, abs, low back
Points to remember:

The torso, not the head, should be pushing up.

Mermaid
Kneeling with straight posture, grasp the right shin with the right hand. Place the left hand behind the head with the elbow pointing straight up. Now bring the left arm out to the floor and extend the right arm straight over head. Have them repeat for 3-5 reps for each side.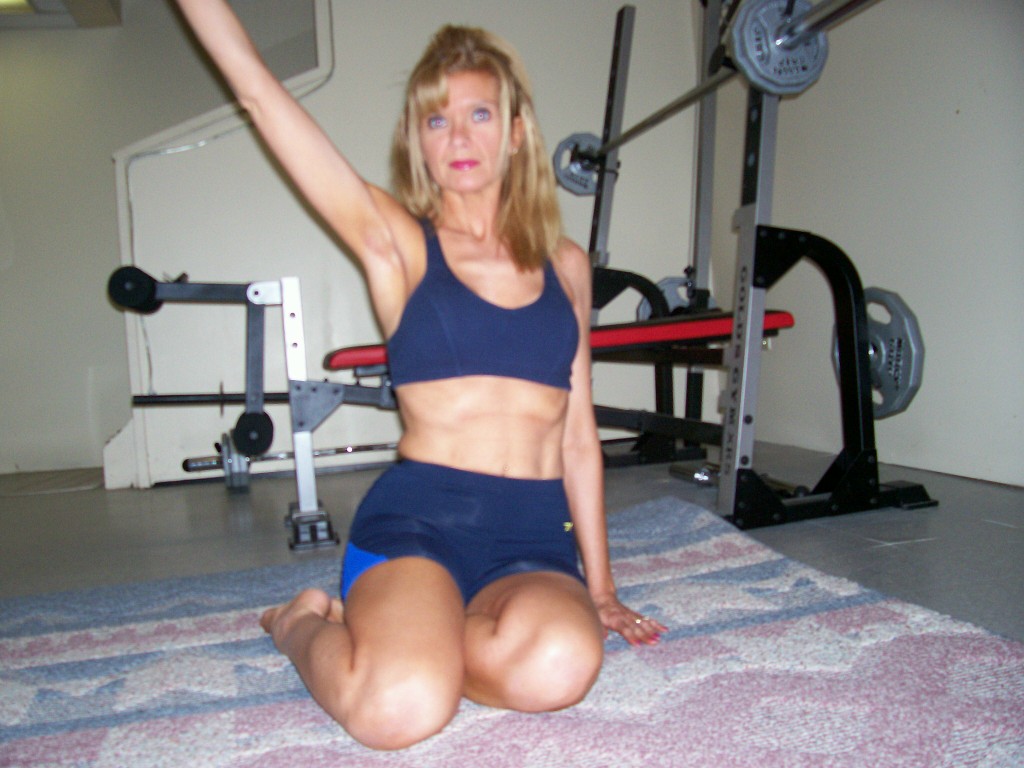 Start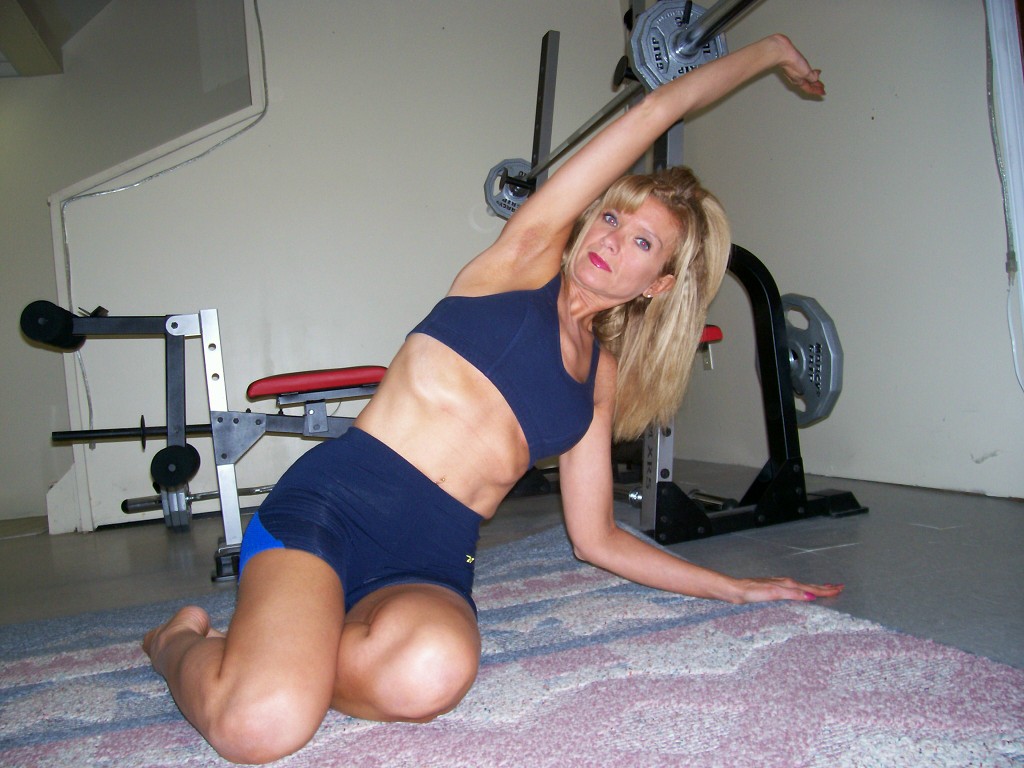 Finish
Points to remember:
Keep the back erect.

Stretch until they feel a slight pull on the side.

Hold each position for a 5 count.
Transitions should be smooth and controlled.
Crouch Downs & Squat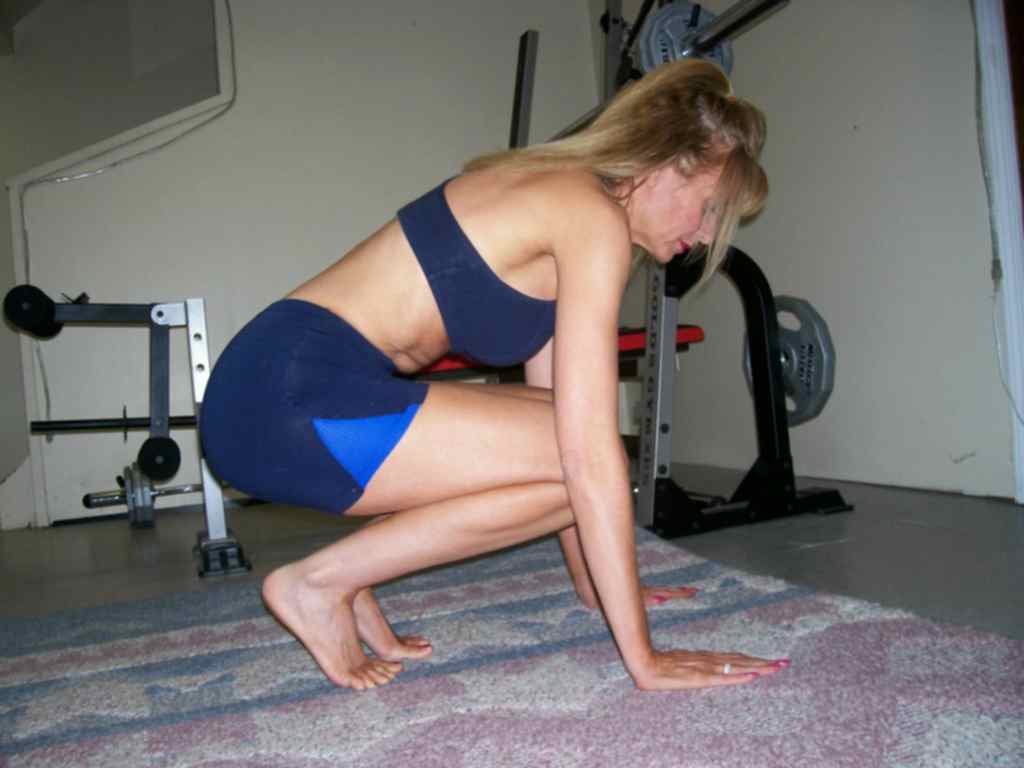 Start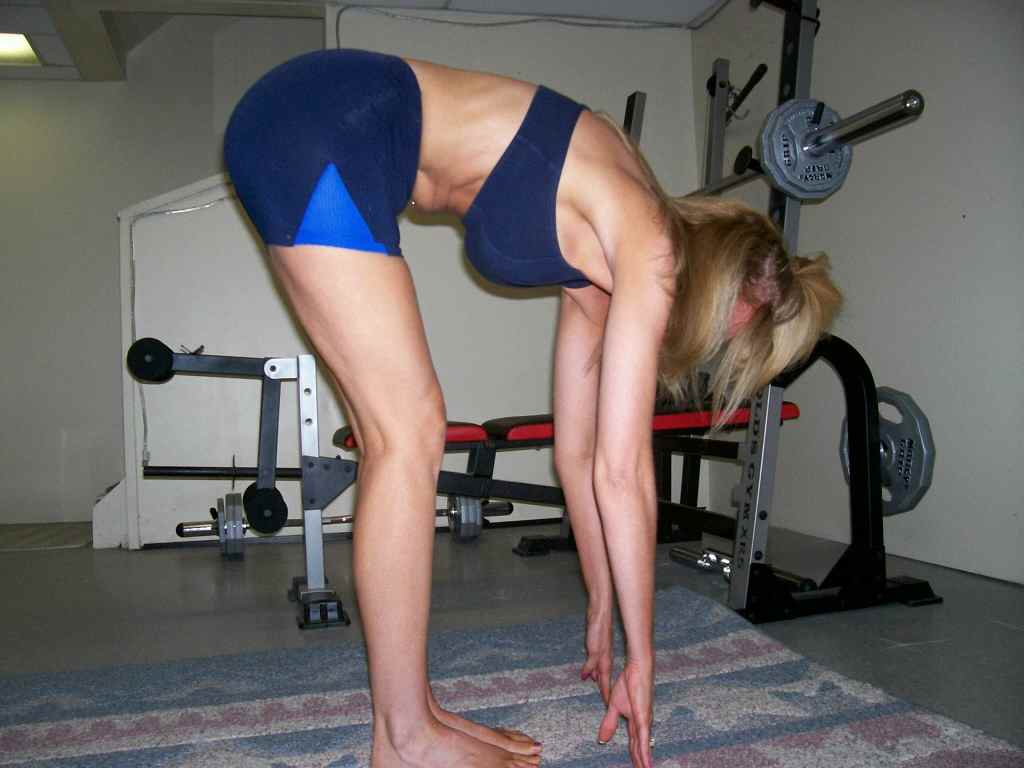 Finish

Have the client crouch down with the arms straight, palms on the floor and slowly straighten the legs while keeping the palms on the floor. Beginners may not be able to straighten their legs all the way out. Have them put their hands on a chair or step. Repeat for 3-5 reps. Muscles trained: Abs, obliques, triceps, shoulders, hips, back.

After the top position of the final rep, take it right into the toe press (next). Muscles trained: Thighs, hips, glutes, hamstrings, triceps, chest.
Floor toe press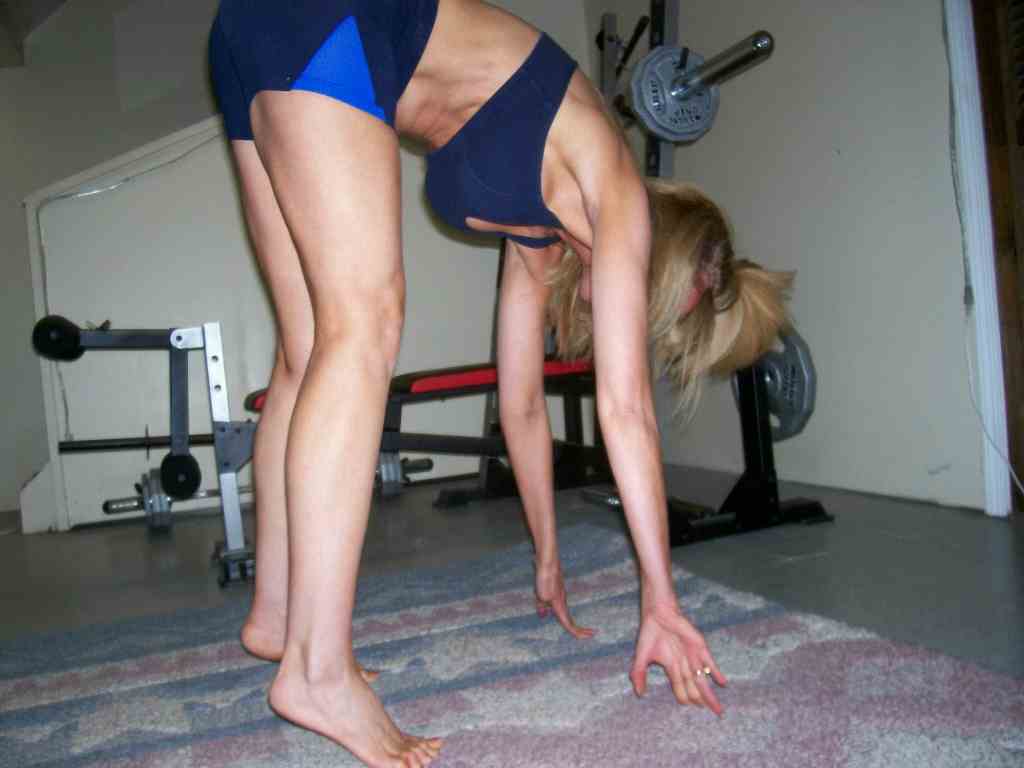 From the finish position of the squat, have the student rise slowly up as high as possible on the toes and stretch back down again. Repeat for 10 to 20 reps. Muscles trained: Calf.
Points to remember:
Have the client lean their hands on a chair or step if the movement is too extreme.
Side Dive
Have clients push themselves up into a position where they have both arms extended in a cross-position while keeping the legs straight. Their body should be at a 45 degree angle to the floor at the top of the movement. Drop back to the bottom position and switch to the other side. 3-5 reps are difficult. This position should not be used with beginners. Muscles trained: Chest, triceps, obliques, hips.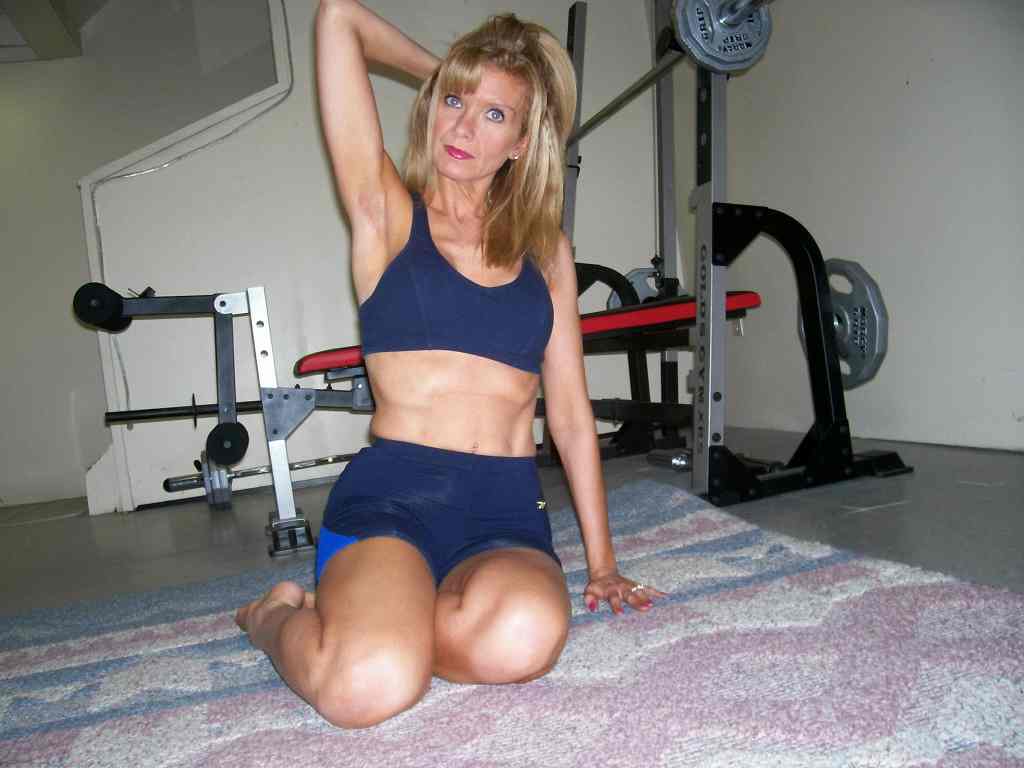 Start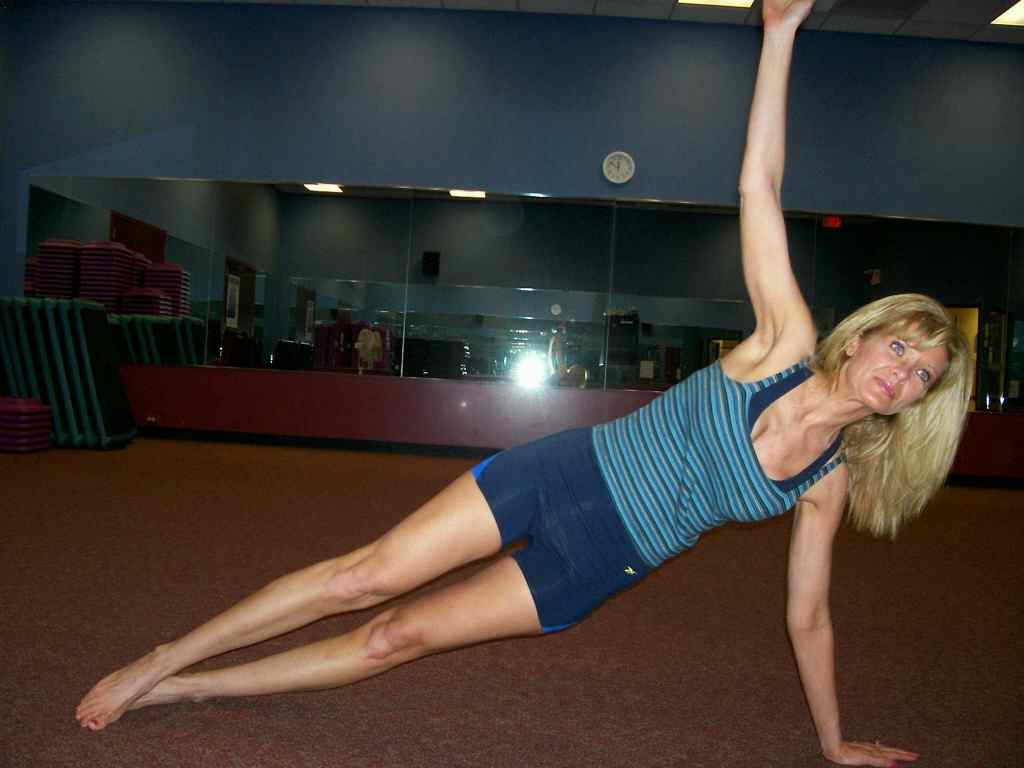 Finish
Leg Rotators
Have the client get up on their hands and toes with their body extended straight.
From this position, have them raise their right leg slowly up and out to the side while keeping in straight. Do 3-5 repetitions per side. Muscles trained: Glutes, hips, triceps, chest, hamstrings.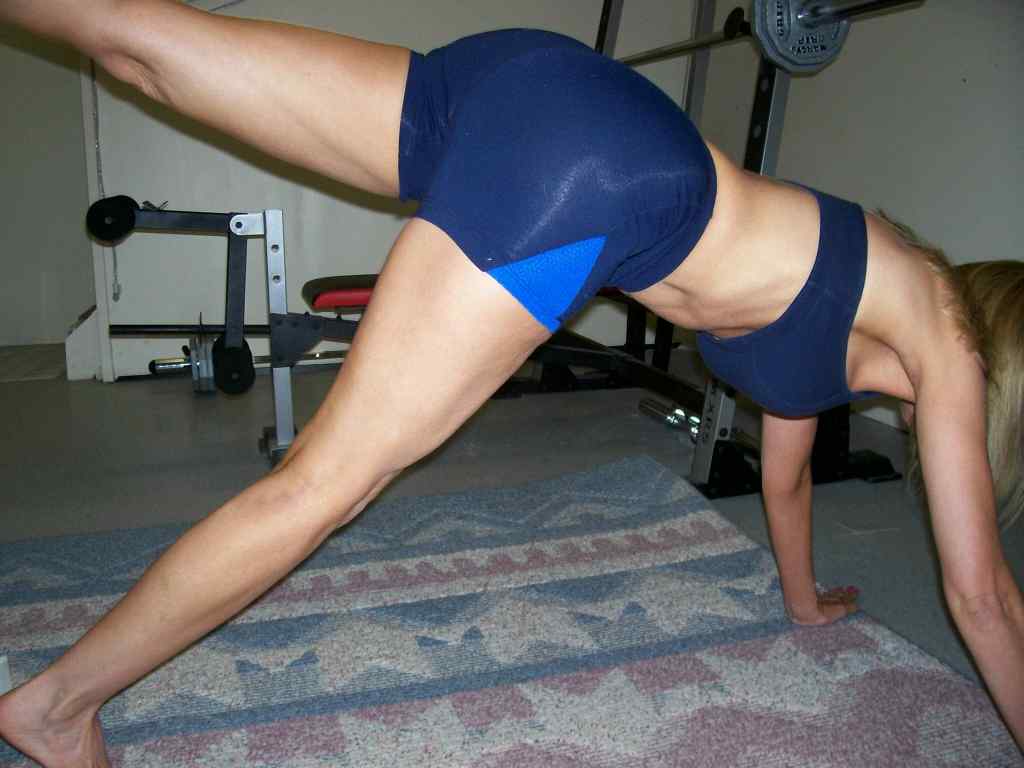 Start
Finish

Points to remember:
Keep the legs and arms straight.
If you are training a beginner, allow them to kneel instead of stretch out on the support leg.

Session Finish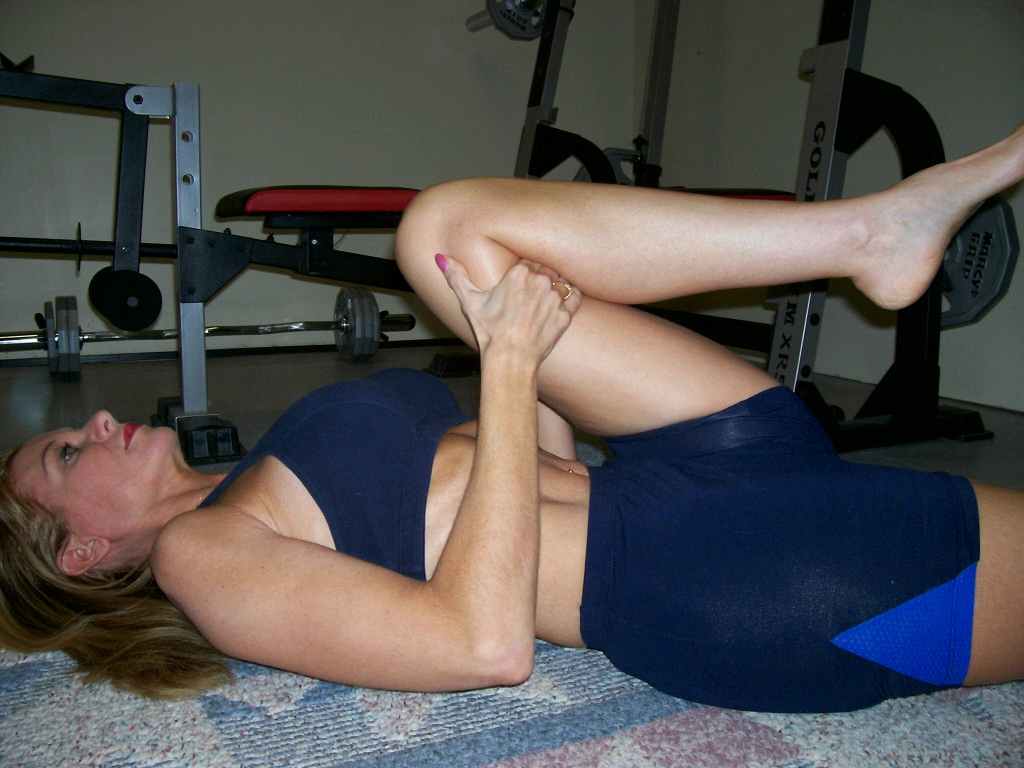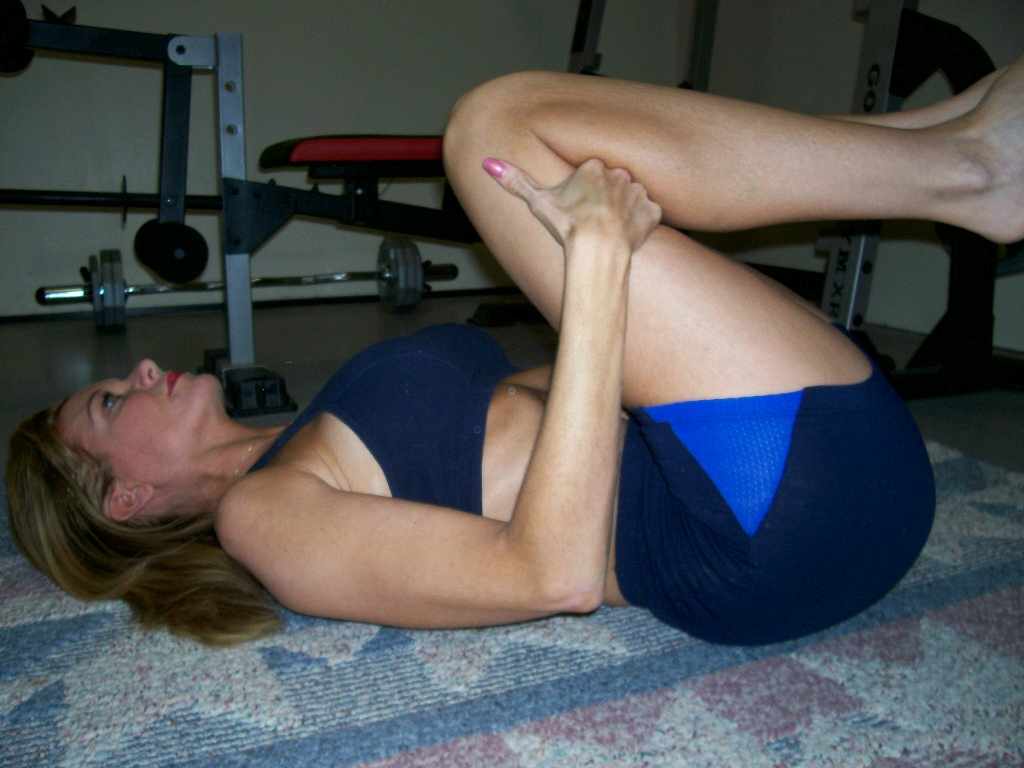 Always clients finish the workout with a lower back stretch with each leg individually and then both legs together. Have them hold the stretch for a 1-2 minutes each while recovering from the session. Encourage the client and smile as they leave.

SUMMARY
You now have an arsenal of core exercises to use with your Pilates training clients or students. You can add to this list: Overhead triceps extension with a dumbbell, upright rows with a dumbbell or bar, and lateral raises. Have clients do them while standing with knees slightly bent.
If you see an unusual dancer's movement or gymnast's stretch, try it, and if it seems safe, include in your retinue of exercises because it probably originated in Joseph Pilates' gym anyway. When making a determination about adding a movement, always err on the side of caution. If it looks like it could potentially injure your client, forget it. If it's easy to do, include it. You don't want customers blaming you for their back problems. This routine will eliminate those problems when done two or three times per week.
A rule to remember as you establish yourself and build a steady client base is: always put the welfare and feelings of the customer ahead of your need to annihilate them during their workout, so they make progress and don't quit. Pilates is meant to be easy for anyone. See which coaching methods your client responds best to, and be flexible enough to change as their needs and goals change.
You are going to be able to make positive, life changing improvements in your client's lives. There is nothing so rewarding as seeing someone lose eighty pounds because of the help you have provided. Just use common sense. Don't put yourself into a compromising situation by promising more than you can deliver. Make the client realize that he or she is the person responsible for the results, and you are only there to coach and help them. Pilates is an exercise system, not a miracle.
Good luck with your Pilates training. E-mail your finished exam to exams@amfpt.com. It tests your practical ability to answer client's questions. You can also send it to American Muscle & Fitness, 102 Benedict Road, Pittsford, NY 14534. I can't wait to hear from you about how your new business is doing!
PILATES FINAL EXAM
NAME:
ADDRESS:

ESSAY QUESTIONS
Put your answers into an e-mail or an attachment and e-mail it back to exams@amfpt.com and amfpt@aol.com . Please include your name and address. You will not be able to write on this web page.
Don't rush through the exam or skimp on your essay answers because there is a $25 retest fee if you fail. Most people who don't pass fail because their essay answers are too short or don't fully answer the questions asked. You can write your exam answers in an e-mail. Please include your name and address on your final exam when you e-mail it back to exams@amfpt.com.
For each question, write one full page (300 words or more) based on the manual reading material outlining the advice you would recommend for the client. Check your grammar and spelling. When you finish, e-mail the exam back. It will be corrected immediately. You will be notified and your certificate sent out with the next mail. You can also mail your exam to:
American Muscle & Fitness
102 Benedict Road
Pittsford, NY 14534
1. What is Pilates? Describe the Pilates system of training theory.
2. Design a Pilates routine for a client that wants to improve muscle definition and strength. Describe the muscles worked in each exercise. Be sure to include exrcises, sets, reps, routines, cadence and breathing technique.
3. How is Pilates a good choice for clients with injuries like lower back problems? Can Pilates help strengthen it? What exercises and routine would you recommend?
God bless,

Gregory Ladd