TRAINERS · RENEWAL · ORDER · RETEST · INSURANCE · LINKS

American Muscle & Fitness - the #1 Online International Fitness Certification Company with over 9000 Graduates in 50 Countries Worldwide. AMFPT is dedicated to providing a fast certification process to get you into the job market immediately in today's tough economy. We work closely with you to make sure understand the material so that you can pass the course and start your career.

AMFPT Certification is endorsed by NPC Vice President Jim Rockell and IFBB Pros and AMFPT graduates Danny Padilla, George Farah, Hazal Nelson and Anthony Finocchiaro. AMFPT is a member of the Sloan Consortioum for excellence in education. Help support these charities with us.

Certification courses for: PERSONAL TRAINER · MASTER TRAINER ·

STRENGTH & CONDITIONING · AEROBICS · KICKBOXING AEROBICS ·

SPORTS NUTRITIONIST · HEALTH CLUB MANAGER · SENIOR FITNESS ·

PILATES INSTRUCTOR · GROUP FITNESS INSTRUCTOR Only $79.95 each - includes exam fee

Package Specials: PT/MASTER TRAINER · PT/PILATES · PT/SPORTS NUTRITIONIST - Only $119.95 for 2 courses

New - Fast Track Phone Certification! Take any AMFPT Certification Program by telephone. Includes online or hard copy manual and live telephone instruction and exam. LIVE TELEPHONE COURSE · Only $199 for any course.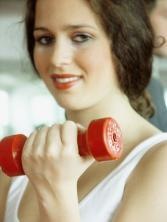 Thinking of becoming a Certified Trainer? Then it's time to join the fast growing, high profit, recession proof fitness industry by becoming a Certified Trainer right now and earn as much as $50,000+ per year. It might your most important career decision and you'll be doing something you love every day. American Muscle & Fitness has one of the most widely respected and valuable online trainer certification programs available. It's becoming the certification of choice among trainers and the gold standard of certification programs. Recognized for its low cost, convenience, personal attention and first class information. The course provides you with the latest no-nonsense information. Enroll today. Show clients you're certified by hanging your AMFPT certificate in the gym. Live class fee for this course is $299. (live classes also available - click here to find a live class near you), online course is only $79.95. You save $219. Tuition fee includes exam.

Are you stuck in a dead end job and ready for an exciting new career doing what you want in the recession proof fitness industry? Maybe it's time to say so long to your old boss and become a self employed personal fitness trainer. If you have been working out a while, you may want to convert the physique you've developed and your training knowledge into hard currency. AMFPT certification can help if you're applying for a position as a trainer in the multi-million dollar health club business. WARNING: Many potential clients and health clubs will not hire non-certified trainers. happy to help.You can begin your compelling new career as a fully certified trainer today for only $79.95, compared to $500 for ISSA, $375 plus $75 annually for NFPT and $200 for ACE. The enrollment fee for this course was $299, but the Internet has enabled AMFPT to roll back registration fees to just $79.95. What that means to you is true savings of $259 by enrolling now. And what that really means to you is you get a two-hundred dollar value at a fraction of the cost. You have the potential to earn $25-$100 an hour with no overhead and the freedom of owning your own business. And what that really means to you is a great new career that you can be proud of.

Thanks so much for the great course. I found this course to be very thorough, with high-quality information presented in a concise manner. As an emergency physician and the director of a cardiac rehab and fitness center, I found the course very helpful. The personal fitness and training information presented in this course is far beyond what most physicians are taught, yet Greg Ladd presents the material in a clear and understandable fashion.

I heartily recommend this course!"

John Carson - MD. Yuma, AZ


Live Certification Classes - Find a location near you http://ptclass.com